2021 Volvo XC90 Available in Troy, MI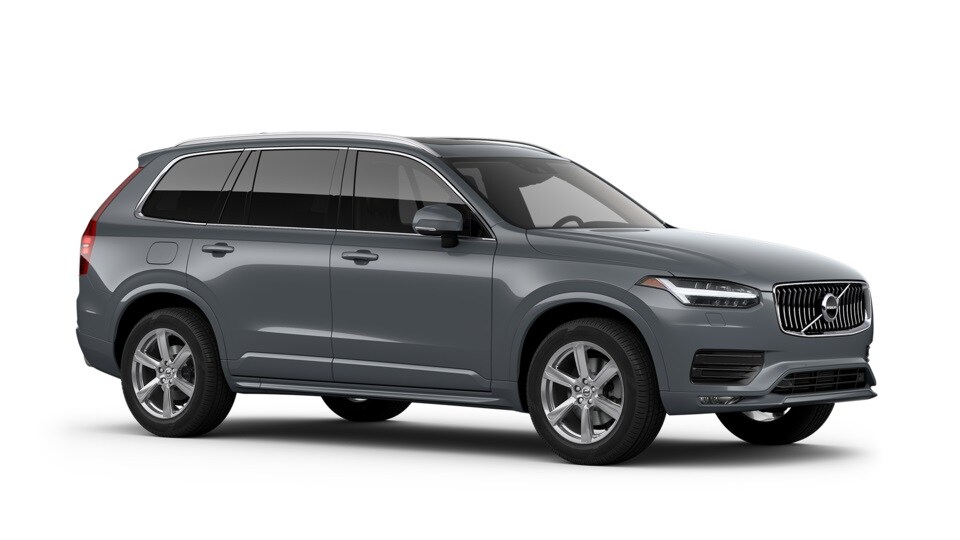 Spacious, refined, and powerful, the new 2021 XC90 is the flagship luxury SUV from Volvo. It's the largest model available from the lauded Scandinavian automaker, and it has plenty to offer to drivers who need versatility and refinement in equal amounts.
Features and Amenities
The new XC90 precisely blends its premium appeal with a legitimate focus on ergonomics and practicality. Volvo, in classic form, has built the SUV with form and function working together seamlessly.
Upscale amenities and handsome shapes are plentiful in the new XC90. Volvo offers a range of upholstery options, from premium leather to soft and comfortable wool. Heated and ventilated seats are available as well. Wood and aluminum trim pieces present exceptional craftsmanship.
At the same time, these SUVs offer plenty of practicality. The 2021 XC90 comes standard with three rows of seats and room for up to seven passengers. It's a Volvo that's built for growing families. The model also features excellent cargo capacity with folding rear seats and more than 65 cubic feet of space.
Performance and Capability
When it comes to performance, the new XC90 is a forward-looking vehicle. Advanced technology helps this SUV achieve impressive capabilities.
Volvo uses a single 2.0-liter four-cylinder engine as the core of its diverse powertrain lineup for the XC90. The base T5 powertrain uses turbocharging to achieve a healthy 250 horsepower. The T6 powertrain adds a supercharger to achieve 316 horsepower and 295 pound-feet of torque.
Finally, there's the T8 Plug-In Hybrid powertrain. It adds two electric motors to make a combined 400 horsepower.
All three powertrains use a standard eight-speed automatic transmission. Available all-wheel drive may be a compelling option for drivers near Southfield and Warrant who want to be ready for snow and ice.
Technology and Safety
Technology runs throughout the new XC90 to provide a more convenient and confident driving experience. From safety to media, this SUV has all of the features that you need.
Climb inside the cabin and a standard 9-inch touchscreen infotainment display will be there to greet you. This responsive, dynamic interface offers access to everything from Apple CarPlay to built-in navigation. Volvo also offers an available Wi-Fi hotspot.
Naturally, the 2021 XC90 is loaded with available driver-assist technologies. Forward-Collision Warning with Automated Emergency Braking, Lane-Departure Warning, and Blind Spot Monitoring with Rear Cross-Traffic Alert are all standard. Other options like Run-Off Road Mitigation and Blind Spot Information System add even more confidence to the experience.
Experience the 2021 XC90 at Suburban Volvo Cars
Suburban Volvo Cars near Detroit and Grosse Point is ready to help you find your own Volvo XC90. Our staff and selection are at your disposal, so come visit us today for a test drive.
Volvo XC90 Comparison
Spacious luxury is the central theme of the XC90, the largest vehicle in Volvo's model lineup. The XC90 brings Volvo's distinctive Scandinavian design style to the full-size luxury SUV segment, offering an experience that emphasizes performance, comfort, practicality, and style in equal measure.
The new XC90 is a worthy consideration for anyone searching for a new luxury SUV, but it's certainly not the only option around. Take a look at these brief comparisons to see how the XC90 fairs against a couple of competitors.
Volvo XC90 vs. Audi Q7
It's no wonder the XC90 and Q7 are considered top choices for drivers in pursuit of spacious luxury. These premium SUVs both offer upscale design, powerful performance, and space for seven passengers. Start looking at the details, however, and you'll see that the X90 comes out on top in several important aspects.
Pricing: When it comes to pricing, both models slot where one expects a luxury SUV to be. However, the XC90 has an edge. Its base trim, the Momentum, starts at just $46,900. By contrast, the Q7 starts three grand higher at $49,900. The pricing difference remains as you move up in trim levels.
Performance: There's no question that both the XC90 and the Q7 are built with premium performance in mind, but the XC90 again gets the edge. That's due to its available plug-in hybrid powertrain that combines the effort of a turbocharged gas engine and an electric motor to produce a combined 400 horsepower. The most powerful Q7 powertrain tops out at 333 horsepower.
Flexibility: Drivers often choose full-size luxury SUVs due to the flexibility of substantial cargo capacity. If you're looking to optimize interior space, you'll want to choose the XC90. With the rear seats folded down it offers up to 85.7 cubic feet of cargo space. The Q7 lags behind with 71.6 cubic feet of cargo space.
Volvo XC90 vs. Acura MDX
Though their styling differs, the Acura MDX and Volvo XC90 have much in common. Both are SUVs designed to accommodate upscale expectations with luxury amenities, advanced technology, and considerable performance. While the two are worthy competitors in the segment, there are several ways the XC90 gets the nod over the MDX.
Power: Though the MDX offers more standard power, the XC90 comes out on top when it comes to total available power. Volvo's option has two powertrain options that outpace the most powerful engine available in the MDX. First, T6 turbo and supercharged engine produces 316 horsepower and 295 pound-feet of torque. The available Twin Engine Plug-in Hybrid powertrain bumps power to 400 horsepower by using both a forced-induction gas engine and an electric motor.
Efficiency: Both the MDX and the XC90 have available hybrid powertrains, but the Volvo gets the efficiency edge. Its estimated 30 mpg highway beats out the MDX's estimated 27 mpg highway.
Comfort: As premium vehicles, the XC90 and MDX are expected to live up to drivers' high expectations for luxury. Both are packed to the brim with standard and optional luxury features. The XC90 has one feature that's sure to make passengers happy -- dual-zone rear climate control. In the MDX, rear passengers are relegated to a single climate control zone.