2021 XC60 SUV Available at Suburban Volvo Cars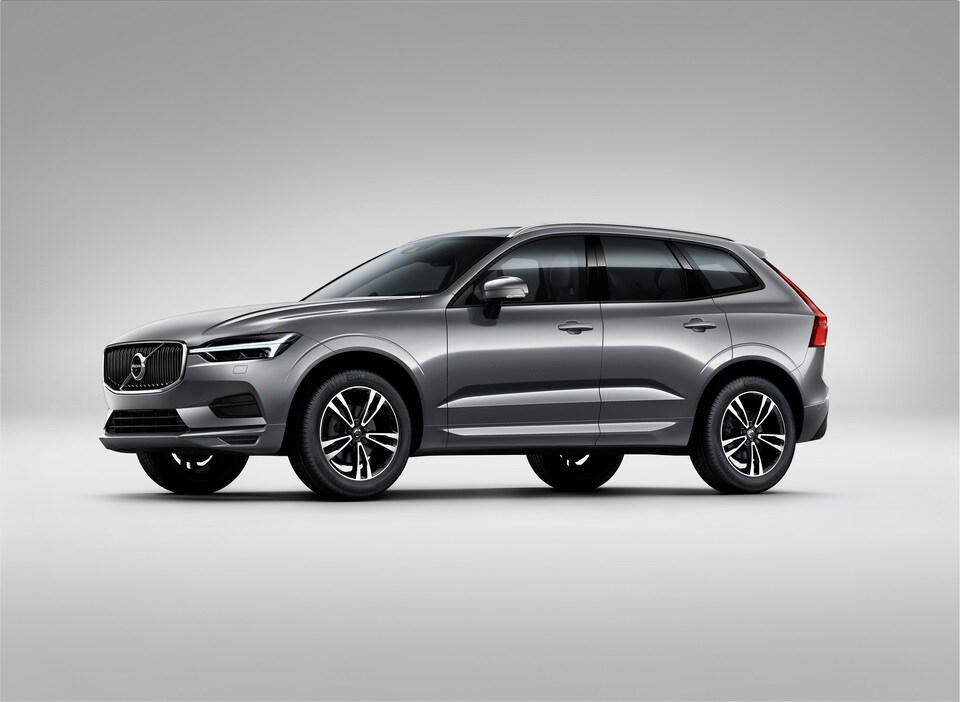 Seeking a sleek, versatile, and comfortable luxury SUV? The new 2021 Volvo XC60 could be a great pick. Volvo designed the 2021 XC60 with a sharp appearance and a practical, yet premium cabin. Add in cutting-edge technology and performance and you have an SUV that's ready for modern driving.
Performance
The new 2021 XC60 is precision-engineered to produce outstanding performance at all levels. With a range of modernized powertrains and advanced technologies, the XC60 is able to deliver the kind of capability that Volvo shoppers expect.
Reserve the New 2019 XC60!
Three powertrains are available. XC60 T5 models get a 2.0-liter turbocharged four-cylinder engine with 250 horsepower. You can add more power by moving up to the T6 powertrain. This system adds a supercharger to the mix to coax more than 300 horsepower from the 2.0-liter engine.
XC60 Recharge gets the cutting-edge T8 plug-in hybrid powertrain. Along with the turbocharged and supercharged engine, these models use a pair of electric motors. The entire system combines to make 400 horsepower. All-wheel drive is standard on these models.
Cabin Design and Features
Refinement comes standard inside the new Volvo XC60. The cabin come standard with uniquely sculpted seats that are engineered for comfort and support. Available Nappa leather upholstery along with automatic climate control enhances comfort further. Volvo even offers available massaging front seats.
A range of color combinations and materials are available for the XC60 cabin. Wood and aluminum trim pieces are expertly crafted to provide a sense of quality and style. An available panoramic glass roof finishes the space with natural light and wide-angle views.
The XC60 cabin offers great practicality as well. Fold down the back seats and you'll have a spacious cargo area that's ready for luggage and gear.
Safety
Volvo has equipped the new XC60 with a ream of technologies to support safety needs. Cameras, radar, and more work together to help drivers stay aware of their surroundings. Many of these features can even trigger automated vehicle responses to help avoid hazards.
Automated Emergency Braking with Pedestrian Detection and Lane-Departure Warning with Lane-Keeping Assist are both standard in the 2021 XC60. Blind Spot Information System and Rear Cross Traffic Alert are included as well. Other optional features include Run-Off Road Mitigation and more.
Technology
The new XC60 knows how to keep passengers connected. A nine-inch touchscreen display comes standard for easy access to everything from built-in navigation to Apple CarPlay and Android Auto. Additionally, Volvo offers an optional built-in Wi-Fi network with 4G LTE compatibility. Wireless phone charging is now standard for the XC60.
Test Drive the 2021 XC60 Near Detroit
You can find the 2021 Volvo XC60 here at Suburban Volvo Cars. Stop by today to browse our inventory and take the XC60 for a test drive.
Volvo XC60 Comparison
The Volvo XC60 was at the forefront of the luxury compact crossover movement a few years ago and continues to be one of the - if not THE - top choices in the category. Of course, Audi is no slouch when it comes to luxury vehicles, and the Audi Q5 is also among the most popular competitors. In addition to refined and stylish good looks, both offer a great selection of powertrain options, as well as a full range of features and amenities. In a straight up comparison, many choose the XC60 for its outstanding safety ratings.
Volvo XC60 vs. Audi Q5
Power and Performance. The Volvo XC60 T5 features a 2.0-liter turbocharged four-cylinder engine that churns out 240 horsepower and 258 pound-feet of torque. It's paired with an eight-speed automatic transmission; front-wheel drive is standard and all-wheel drive is available. The 75 can tow up to 3,500 pounds. The T6 version, meanwhile, gets a supercharger in addition to the turbocharger, boosting output to 302 horsepower and 295 pound-feet of torque, and towing capability up to 4,400 pounds. The Audi Q5 comes standard with all-wheel drive. Its base engine is a 2.0-liter turbocharged four-cylinder that makes 200 horsepower and 258 pound-feet of torque. The Q5 3.0T gets a supercharged 3.0-liter V6 that produces 272 horsepower and 295 pound-feet of torque.
Design and Features. Both of these compact SUVs are handsome vehicles, inside and out. The XC60 has a classic Scandinavian design, with a reserved yet elegant look that practically exudes solid reliability. The interior is clean and uncluttered, and exceptionally comfortable, especially for long hauls. Volvo is still one of the only car makers to offer integrated child booster seats that fold out of the rear bench seating. The XC60 has better than average cargo space, with 30.8 cubic feet behind the rear seats and up to 67 cubic feet with the seats folded. The Q5 is slightly smaller, with 29.1 cubic feet behind the rear seats and a total of 57.3 cubic feet with the rear seats down.
Safety. Again, both the XC60 and Q5 are tops in terms of safety. All XC60 models come standard with antilock brakes, traction and stability control, whiplash protection, front seat side airbags, full-length side curtain airbags and Volvo On Call emergency telematics. New is Volvo's City Safety system, which is a low-speed frontal collision warning and mitigation system with automatic braking. The Q5 is similarly equipped, but does not have collision avoidance or lane departure warning technologies available this year.
Volvo XC60 vs. Acura RDX
Power and Performance. Built into Volvo XC60 T5, you'll find an energetic 2.0-liter turbocharged four-cylinder engine putting out a high-performance 240 horsepower and 258 pound-feet of torque to excel, coupled with the seam-free gear shifts of an eight-speed automatic transmission. XC60 comes standard with front-wheel drive, but all-wheel drive is available for the base T5 trim, and the luxury vehicle remains capable of towing up to 3,500 pounds when properly equipped. Volvo XC60 T6 carries a supercharged engine option, showcasing an output boost to 302 horsepower and 295 pound-feet of torque, making possible reliable towing of up to 4,400 pounds. Though Acura RDX may offer some additional power with a 279-horsepower, 3.5-liter SOHC i-VTEC® V6 engine, it falls behind Volvo XC60 at just 252 pound-feet of torque to tack into terrain. Plus, no supercharged engine iteration, horsepower enhancement, or torque increase is available, even in higher RDX trims like those with AcuraWatch Plus, Technology, and Advance packages. And Acura RDX can handle but 1,500 pounds taken in tow.
Design and Features. When it comes to an interior to impress, Volvo XC60 T5 delivers its classic blend of impeccable Scandinavian craftsmanship, showcasing elegance with more than a touch of reliability, and an interior bespeaking apex comfort for the duration, ample head, leg, and shoulder room and ergonomic sport leather seating presenting in base trims. 30.8 cubic feet of cargo space yawns from behind XC60's rear seats, widening to up to a cavernous 67 cubic feet when they're folded. Though both Volvo XC60 and Acura RDX are similarly appointed, RDX makes available sport seats with a perforated leather-trimmed interior only in higher Technology and Advanced trims. Plus, Acura's crossover weighs in at a somewhat lower capacity than that of Volvo, with but 26.1 cubic feet behind its second row and up to 61.3 cubic feet with second-row seats folded.
Safety. Coming standard with antilock brakes flanked by traction and stability control, as well as engirding by front seat side and full-length side curtain airbags, Volvo XC60 T5 shows itself a model of the secure ride. Whiplash protection adds a layer of peace of mind from driveway to highway and off the beaten path, while Volvo On Call emergency telematics and the new-for-the-model-year City Safety system, featuring a low-speed frontal collision warning and mitigation system with automatic braking, put the finishing touches on looking out for you and yours. Acura RDX offers trims equipped similarly, but driver-assist functionality like Adaptive Cruise Control, Acura's Collision Mitigation Braking System™ (CMBS™), and a Lane Keeping Assist System only comes available upon graduation to mid-level and upper RDX trims.
Volvo XC60 vs. BMW X3
More standard features for comfort and convenience. The 2020 Volvo XC60 puts traditional luxury brands on notice with an impressive list of features that give drivers from Troy an incredible amount of comfort and convenience features as standard. Enjoy genuine leather upholstery compared to the faux leatherette upholstery you'll find in the BMX X3, as well as entertainment from Satellite Radio offerings as standard on the 2018 Volvo XC60 SUV. The 2018 Volvo XC60 also delivers a massive panoramic sunroof to let in energizing sunlight and fresh air that you would not find offered on standard BMW X3 models. The 2018 Volvo XC60 offers exciting features and luxurious capabilities that the BMW X3 does not at a similar starting price!


Premium Volvo performance leaves previous luxury brands in the rearview mirror. The 2020 Volvo XC60 reaches levels of premium performance that drivers have never experienced before from their safety-minded Volvo vehicles. Both the Volvo XC60 and BMW X3 employ 2.0-liter turbocharged inline-4 engines with similar power ratings, an eight-speed automatic transmissions and all-wheel drive standard. While they may use similar equipment, the two do not produce the same result; the Volvo produces more horsepower (250 to the BMW's 248 horsepower) and a more responsive and easily maneuverable performance that drivers from Troy may prefer to the delayed response times of the BMW's acceleration. The prompt and exciting performance of the 2018 Volvo XC60 helps it appeal to drivers who prefer to leave traffic jams in their rearview mirror.


Legendary Volvo Safety The 2020 Volvo XC60 lives up to Volvo's reputation for safety features and top-marks for crash test ratings and protective qualities. Lane/road position assist and departure mitigation, emergency braking with pedestrian/bike/animal detection, driver attention alert systems, road sign-recognition, and four-years complimentary subscription to Volvo On Call emergency services are included standard on all 2020 Volvo XC60 models. The BMW X3 receives a backup camera and automatic wipers as part of its standard features, but it requires purchase of additional packages and options to acquire even a fraction of the safety features you'll find standard on the 2020 Volvo XC60.