2020 Volvo S60 Premium Sedan in Troy, MI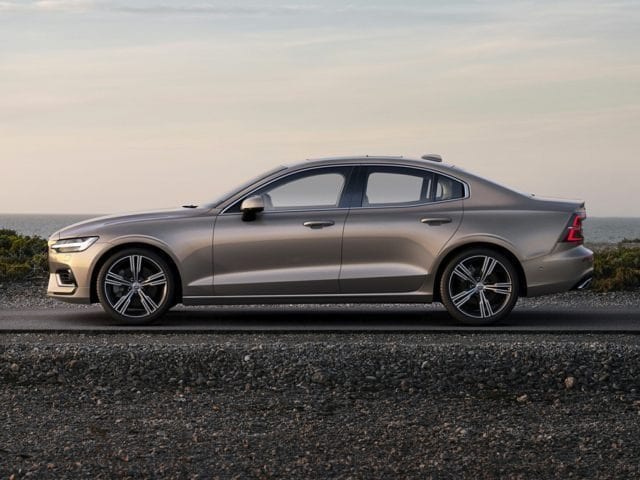 Get Yor 2019 Volvo S60, Today!
Agile, Luxurious 2020 S60 Caters to Drivers with High Expectations
Coming off a complete redesign last year, the 2020 Volvo S60 is ready to continue impressing drivers throughout the areas around Detroit, MI. Sleek, subtle styling meets finely tuned performance and comfort in this Scandinavian compact premium sedan. 
Versatile Engine Lineup and Performance Options
The new 2020 S60 offers three strong powertrain options to consider. All are based on the same engine block, but differences in tuning and technology yield varying performance results from powerplant to powerplant.
T5: The T5 powertrain uses a 2.0-liter four-cylinder engine and turbocharging technology to produce 250 horsepower and 258 pound-feet of torque. It's even good for a thrifty 36 mpg highway.
T6: The T6 picks up where the T5 left off but adds an additional supercharger to the mix. This additional engineering bumps output up to 316 horsepower and 295 pound-feet of torque.
T8: The T8 Twin Engine powertrain uses hybrid technology to achieve impressive numbers in both power and efficiency. Between the gas engine and electric motor, the T8 produces 400 horsepower and 472 pound-feet of torque.
The new S60 has a chassis that can handle high power output, as well. Whether you choose the standard or sport-tuned suspension, you'll get a full independent setup that is both smooth and precise. Available all-wheel drive improves handling even further and equips drivers to handle the harsh weather conditions often experienced around Sterling Heights and Warrant. A range of Drive Modes gives you control over how the S60's various performance elements behave.
Minimalist Cabin with Focus on Quality
Volvo is known worldwide for prioritizing tasteful, quality style and craftsmanship over loud, showy design. The new 2020 S60 upholds this reputation with its simple and expertly crafted cabin. Rich in premium materials like leathers, metals, and woods, the interior of the S60 treats its occupants to a tactile and visual feast. Plus, a standard nine-inch Sensus touchscreen is a gateway to hands-free calling, audio streaming, navigation, and much more.
Active, Innovative Safety
Strong safety is as much a part of the Volvo identity as anything, and the new 2020 S60 has plenty to show for it. New active safety features give the S60 a considerable advantage when it comes to assisting drivers and keeping passengers safe.
Blind Spot Information System keeps drivers aware of other vehicles in low-visibility zones.
Lane Keeping Aid can gently correct your steering to make sure you stay in your lane. Meanwhile, Run-off Road Mitigation can help you stay on the road.
Road Sign Information can identify road signs and display pertinent information in the gauge cluster.
Active Bending Lights work in conjunction with the turning of the steering wheel to help provide better visibility in turns and corners.
Test Drive the 2020 S60 at Suburban Volvo Cars Near Royal Oak
Shopping and researching online is certainly helpful, but there's no better way to get to know the new 2020 Volvo S60 than taking it for a driver. We offer the full spectrum of S60 trim levels here at Suburban Volvo Cars near Southfield, so stop by and check them out. Request a test drive in the new S60 and we'll have the keys out and ready to go.
Compare the 2020 Volvo S60 The Competitors
Volvo S60 Comparison
The small luxury sport sedan segment is a hotly contested part of the auto industry, but the Volvo S60 has carve out a distinct space for itself with its tasteful design, cutting-edge powertrains, and commitment to safety. It's a refined sedan for drivers with impeccable taste, but it's not the only model in the segment that's worth a look. You're likely to consider options from competing manufacturers like Audi and BMW during your search. We want you to feel confident in your decision, so we've put together brief comparisons between the S60 and its main rivals.
Shop Volvo S60 Inventory
Volvo S60 vs. Audi A4
Power and Efficiency: The new S60 starts off strong when it comes to power. Its standard turbocharged four-cylinder engine makes a healthy 250 horsepower. Meanwhile, the A4 offers a base engine with just 188 horsepower. You'll have to pay extra to match the S60's base power. Plus, the Volvo offers an even more powerful 316-horsepower engine and an available Twin Engine Plug-in Hybrid powertrain. You won't find a hybrid option in the A4.
Subscription Experience: The S60 is one of the first Volvo models available through a subscription service, rather than just buying or leasing. This unique experience requires a flat monthly rate. In exchange, Volvo takes care of maintenance, insurance, and more. With an Audi A4, you'll have to choose between buying and leasing.
Drivetrain: Both the S60 and A4 are available with their manufacturers' respective variations of all-wheel drive. However, their standard drivetrains differ. While the A4 comes standard with rear-wheel drive, the S60 offers the smooth ride and efficiency of front-wheel drive. Plus, front-wheel drive offers a performance advantage in the snowy conditions so often experienced in Michigan.
Price: The S60 is likely a wiser investment than the A4. It offers lower starting pricing across the board when comparing similar trim levels.
Shop Volvo S60 Inventory
Volvo S60 vs. BMW 3 Series
Performance: The new S60 has an advantage over the BMW 3 Series in that it simply has more powertrain options. The 3 Series does manage to barely edge ahead with base-engine power. However, its TwinPower turbo engine is currently the only powertrain available. By contrast, the S60 offers three powertrain options. The base T5 produces 250 horsepower, while the T6 and T8 powertrains offer 316 horsepower and 400 horsepower respectively.
Safety: Robust safety is a major part of the Volvo legacy, and the new S60 is a direct continuation. You won't have to move up to higher trim levels to get advanced active safety features in the S60. Instead, Volvo offers City Safety Collision Avoidance technology standard. This system actively detects road-going obstacles and alerts the driver to them. When necessary, it can even activate automatic braking. To get similar features in the 3 Series, you'll have to opt into a driver assistance package for more money.
Hybrid: Only the S60 offers an available Hybrid powertrain. The T8 Twin Engine Plug-In Hybrid does more than simply add power under the hood -- it offers dramatically improved efficiency and even zero-emission driving capability. That's because it uses power from both a gasoline engine and an electric motor. A variety of available drive modes can help you specify your driving experience to your personal preferences. The BMW 3 Series, on the other hand, does not offer a hybrid powertrain option.
Price: If value is important to you, the Volvo gets the edge. The new 3 Series has a significantly higher starting price, despite the two models having similar features and options available.
Shop Volvo S60 Inventory